Whitehaven Beach BBQ
Only Whitehaven Beach Tour with a BBQ!
Our major "Point of Difference" is a BBQ lunch cooked by your Captain on Whitehaven Beach.
Also meet the wildlife of Whitsunday Island!
Whitehaven Beach Tour with BBQ
We are a family business, therefore our Whitehaven Beach Tour with a Whitehaven Beach BBQ is very important to us!
In other words, you can be assured that we care about what we provide for lunch. All of our catering is done in-house. Similarly we put our heart and soul into cooking the BBQ.
Whitehaven Beach Menu consists of Aussie Rump Steaks, Sausages, Chilli Burgers, Sauteed Onions, Aussie Chefs Salad, Rice Salad and a Tropical Fruit Platter – and always enough for seconds!
Homemade Vege Burgers or locally line caught fish can be ordered prior to the tour. Guess which Capt caught the fish?
Cooked to Order and served under the shade of the trees using the Whitsunday Island National Park facilities since 1989.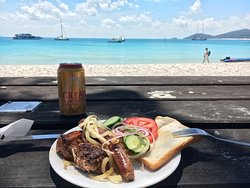 All fares are inclusive of Marine Park fees, National Park fees & GST.