Whitehaven Beach BBQ
The famous Whitehaven Beach BBQ is our "Point of Difference"!
Steaks and sausages cooked by your Captain on Whitehaven Beach.
Meet the wildlife of Whitsunday Island whilst dining!
Whitehaven Beach BBQ
The BBQ lunch we serve at Whitehaven wont be found on an Eating Out Guide for Airlie Beach, however the Whitehaven Beach BBQ can be found on Google Maps! Like all Chefs in the Whitsundays, our family takes great pride in making the most of fresh and local produce, hence the popularity of our beach barbie!
We are a family business, therefore our meat selection and overall food experience we provide is very important to us.
In other words, you can be assured that we are personally taking care of what we provide you for lunch. Perhaps more so because one of our family members will be cooking the BBQ for your enjoyment. That said, whilst our catering is all done at our own kitchen facilities, similarly the Captains will be putting their heart and souls into cooking the BBQ at the beach.
The Menu consists of Aussie Rump Steaks, Sausages, Chilli Burgers, Sauteed Onions, Aussie Chefs Salad, Rice Salad and a Tropical Fruit Platter – and always enough for seconds! Locally sauced melons and pineapples, tomatoes and fish for fish eaters!
Homemade Vege Burgers or locally line caught fish can be ordered prior to the tour. You can bet one of the Captains caught the fish with Spanish Mackerel a favorite.
Cooked to Order and served under the shade of the trees using the Whitsunday Island National Park facilities since 1989.
Recently Whitehaven Xpress was written about by Ecotourism Australia. Checkout the article about us named 9 Incomparable Dining Experiences.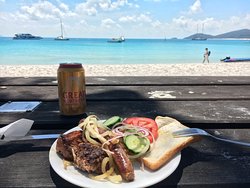 All fares are inclusive of Marine Park fees, National Park fees & GST.